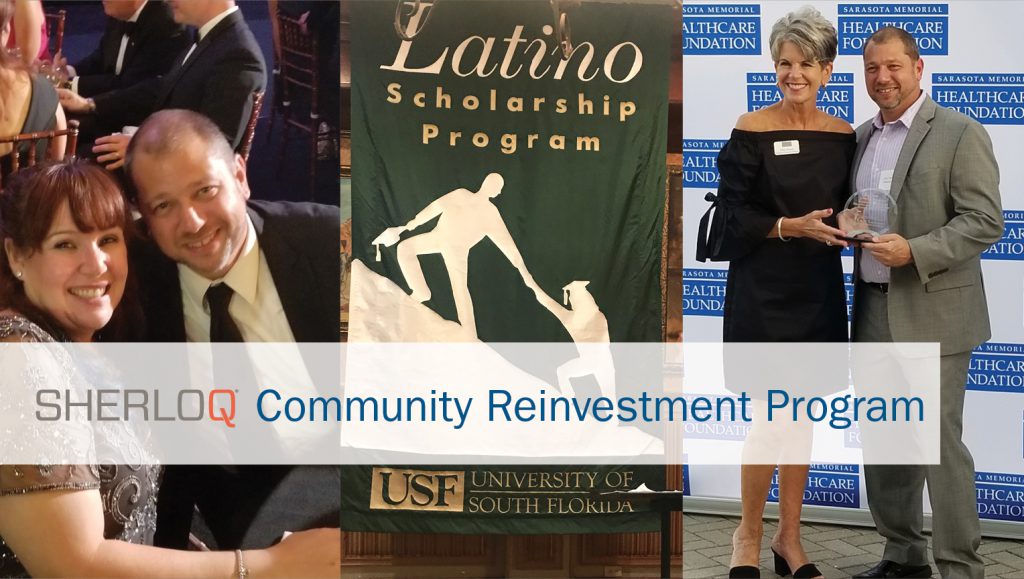 We're committed to giving back to the communities we serve, work and live in. In just the last 20 years, the SHERLOQ® Community Reinvestment Program has donated more than $4.75 million to community programs focused on health and research, empowerment of women, nurturing and mentoring children, and education.
April was an exciting month for Larry Tartaglino, SHERLOQ's Customer Experience and Development leader, representing SHERLOQ at the Tallahassee Memorial HealthCare's Golden Gala XXXVI and Sarasota Memorial Healthcare Foundation Golf Tournament Sponsor Reception. Also, celebrating our 2019 graduating scholar, Jessica, at the 27thAnnual Latino Scholarship Mentor-Graduate Reception was Kim Greer from SHERLOQ's marketing team.
Tallahassee Memorial HealthCare's Golden Gala XXXVI benefits the Tallahassee Memorial Music Therapy Program. In partnership with Florida State University College of Music, Tallahassee Memorial offers the region's most comprehensive music therapy program. Music therapy is used at TMH to help with physical, emotional, cognitive and social needs of their patients. SHERLOQ was honored to give back to an innovative and impactful program.
The Sarasota Memorial Healthcare Foundation Golf Tournament benefits the SMH Physicians Endowment Fund, which provides continuing education for Sarasota Memorial Hospital staff and gives them the opportunity to gain certifications in new areas and update existing credentials. SHERLOQ's foursome is looking forward to the tournament being held on May 3, 2019 at the Laurel Oak Golf & Country Club.
The University of South Florida (USF) Latino Scholarship Program celebrated its 2019 graduates. The program's motto 'We Must Lift as We Climb' captures the essence of the program. "The Latino Scholarship is impacting our community in unmeasurable ways…." said Patsy Sánchez, Director of Diversity and Inclusion at the University of South Florida. Over the last 28 years, the program has graduated over 500 students who have gone on to excel in education, law, medicine, engineering, accounting and other fields.