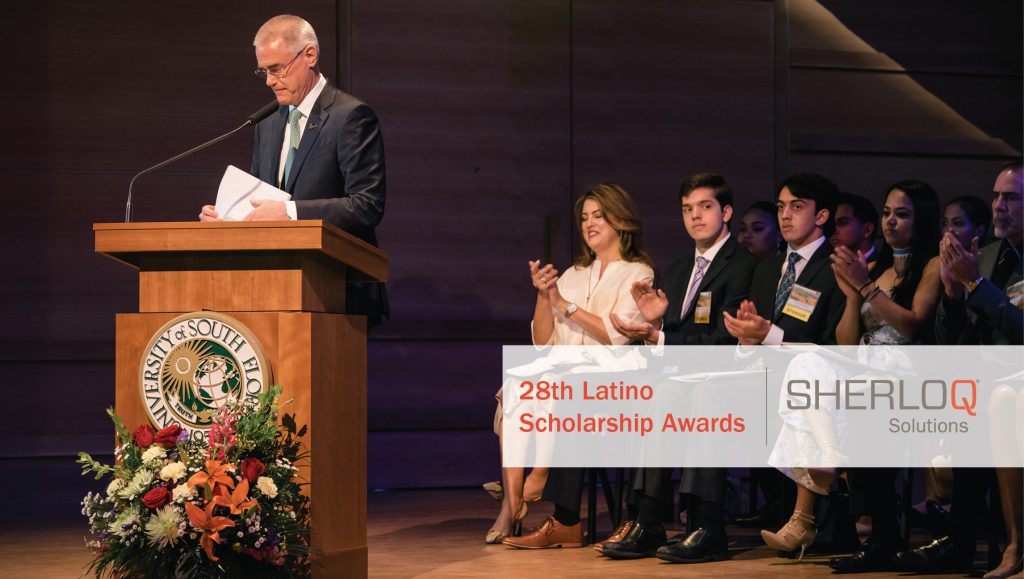 Celebrating its 28th anniversary, President Steven Currall and the USF Latin Community Advisory Committee (LCAC) welcomed 36 incoming and 103 continuing undergraduate scholars at the annual Latino Scholarship Awards Ceremony August 15, 2019 at the University of South Florida. One of these recipients was presented their scholarship by Larry Tartaglino from SHERLOQ Solutions.
"We are proud to partner with so many generous members of the Tampa Bay community to support these deserving students," said USF President Steven Currall. "The financial contributions from our supportive community are critical to helping them realize their dreams. We also know that the mentoring and encouragement the students receive through this outstanding program are vital to their success."

"The transformational power of education is impactful to all students, particularly those who are first in their family to complete a postsecondary degree," said Grace Maseda-Sainz, chair of the LCAC. "The scholarship support and mentorship provided to these students will undoubtedly influence the trajectory of their lives."
These students are an elite group of scholars who are recognized for their academic merits and we wish them much success at USF and beyond.
If you would like to give or learn more, please click here.