PPMS – Professional Practices Management System
Professional Practices & Policies
PPMS™ is a management system for agencies based on developing, implementing, and adhering to a set of industry-specific professional practices and policies. The ACA International PPMS™ program includes 18 basic elements. Developing and documenting a PPMS™ is the core of the ACA International Agency Certification program. You can be confident you are in good hands with Merchants Association Collection Division Inc. dba SHERLOQ Financial®. As a certified PPMS™ collection agency since 2001, SHERLOQ Financial implements best practices when it comes to your business. Our professional, consumer friendly collection services offer the features and benefits below.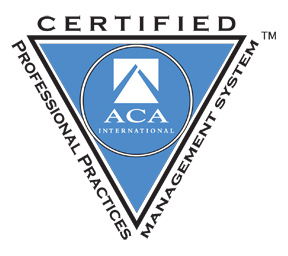 Management Responsibility
Reviewing vision, mission, goals and expectations.
Management System
Developing company policies, procedures and work instructions.
Review of Customer Issues
Determining company's ability to meet customer's needs and expectations.
Document & Data Control
Maintaining both electronic and paper documents—policies, procedures, work instructions—and removing obsolete information.
Purchasing
Managing the purchasing process—major products and services only.
Control of Customer & Consumer Supplied Data
Securing and controlling all data flowing into the office.
Data Identification & Traceability
Understanding company information and where it belongs.
Process Control
Maintaining procedures or instructions for consistent performance—new business entry, cash application collection call, etc.
Inspection & Testing
Testing, reviewing and verifying planned work processes—new business entry, cash application, collection call, etc.
Quality Control & Status Check
Verifying that company processes occur in sequence.
Identification of Nonconformity
Identifying and recording mistakes or problems.
Corrective Action, Preventive Action & Continuous Improvement
Correcting and preventing problems by finding a better, faster or more reliable way to accomplish work.
Handling, Storage, Preservation & Delivery
Disaster planning and delivery of information.
Management of Records/Data
Handling, storing, retrieving, and depositing of information.
Internal Management Audits
Ensuring procedures and policies are followed and the management system is working by having all departments inspected on a regular basis.
Training Program
Ongoing and including, but not limited to: HIPAA, PHI, TCPA, PTCT, CFPB, FDCPA, call opening, call closing, cell phone auth processes, and anti-harassment.
Process & Customer Satisfaction Measurements
Measuring results internally and externally.
Information Management Systems & Technical Infrastructure Administration
Ensuring availability of systems, integrity of applications and data, and confidentiality of information.
Learn more about how our revenue cycle solutions deliver a healthier bottom line.